Why use a car receiver in the home?
Car receivers generally have excellent FM sections and it is not uncommon for enthusiasts to use them as a primary or secondary tuner, connected to an external antenna in the home. Car receivers offer several advantages & disadvantages over conventional hi-fi component tuners. Long distance FM enthusiasts David L. Pierce & Ryan L. Donaldson have gone down this 'road'! Here we share our collective thoughts. Updated content from Mike, Murray & Peter who have provided valuable experimental findings. We hope this information will be of some use to newcomers to the hobby.

Advantages
Better selectivity

- The vast majority of component tuners available have only two IF filters in the FM section. Furthermore, the filters chosen are 'lossy'.

They are designed to maximize fidelity, not sensitivity. Car receivers, without exception, utilize two or three FM IF filters fed into a DSP chip or three IF filters for a conventional FM IF design. The number of FM IF filters can even be as high as four in some models. Car receivers are designed to maximize selectivity due to the difficulty inherent in receiving signals in a moving environment. According to independent lab tests, the Blaupunkt Digiceiver offers at least 72 decibels of selectivity for signals spaced 200 kHz apart. The JVC HS-IVi receiver offers at least 64 decibels, according to the chip manufacturer's lab tests. For signals spaced 100 kHz apart, the JVC HS-IVi receiver offers at least 24 decibels of selectivity.
Digital IF Front End commonplace

- Component tuners featuring Digital Signal Processing

(DSP) or adaptive IF are extremely rare, while DSP car receivers are the norm rather than the exception. Applies to models marketed from the mid 2000's onwards.
Digital tuning

- Car radios invariably feature Digital Tuning, which is considered a prerequisite for FM DX because of the need to know exactly what frequency you are tuned to.

Many component tuners do not.
Excellent sensitivity

- Car receivers are generally coupled with a telescopic monopole antenna

with no theoretical gain over a dipole

.

The metallic exterior of a car may act as an effective ground plane.

For this reason, car radios are therefore engineered to be very sensitive, in order to maximize weak signal reception. Some European manufacturers such as Blaupunkt include dual diversity amplified antennas. Dual diversity antenna systems may outperform a single monopole antenna.

Multi-purpose

- The car radio can be transferred between a vehicle environment and home environment as required. Removing a car receiver is typically achieved in 15 minutes or less with a screw driver and wrench.

Some radios, especially aftermarket ones, come with specialized tools that can remove the radio quickly.
RDS commonplace

- Radio Data System (RDS) is a normal feature rather than the exception. Increasingly, RDS is gaining traction in Australia as DAB Plus coverage concurrently expands. RDS is an efficient way of identifying stations, provided the signal strength is adequate enough to allow the receiver to 'decode' the data from the signal.
Same tuner across the range

- In the past, many car receiver manufacturers, including

Panasonic, Pioneer & Sony implemented the same FM section in every domestic model. This meant that the cheapest model offered equivalent performance to the top shelf model. There is evidence to suggest this is no longer the case for current models.
High quality amplifier built in

- Just add car speakers for a rich listening environment. If the cassette, minidisc, CD or digital audio device input is functional, the device is useful for listening to something other than the radio.
Audio output - Almost without exception, car radios have conventional outputs known as RCA/phono/line out. This means you can connect a minidisc, tape or other type of portable recorder and be able to easily record DX on the go.
Compact

- Many of the home radio tuners were designed to be close to the size of a DVD player. A car receiver takes up much less space in a DXer's 'shack' & can be easily packed into a suitcase. The durability of these units is unprecedented, they are virtually bullet proof.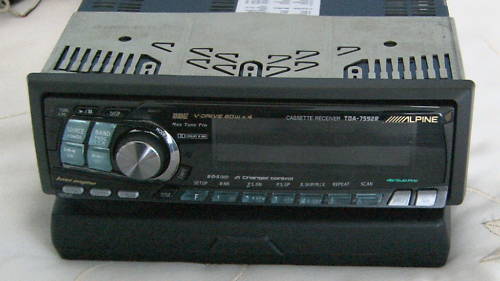 Disadvantages
Aesthetically unappealing

- To non-DXers, it looks quite odd to be using a car receiver in your home! Not the correct size for placement with hi-fi components. A DXer could make a custom case to cover the car radio in a shack to better match their other equipment, providing they have vent holes so the radio won't overheat.
Memory retention

- The vast majority of receivers lose their preset stations upon power off.

This is important when transferring a car receiver from the car to the home. There are exceptions including the Alpine Max Tune Professional tuner & the Blaupunkt Digiceiver tuner. Your presets will be kept permanently, just like a component tuner.
Powering the radio - A car radio usually needs the purchase and fitting of a DC line socket and 12 volt 1.5amp DC plugpack so it can run on indoor power. Cost is $25 or less. While it is generally safe as 12 volt voltages only are used, some basic electronic knowledge or assistance is useful to determine the yellow, black and red power leads. No soldering is required if a DC FastOn Barewires socket (Jaycar Electronics) is used.
Noise

- The FM section of car receivers may have slightly poorer signal-to-noise ratios than their conventional component tuner counterparts on very weak signals. This only applies if the component tuners are being fed into high quality amplifiers. Poor quality amplifiers, such as 'powered speakers' are likely to introduce more audible hiss, likely offsetting any potential benefit to DXers using conventional component tuners.
Further Reading
Discussion concerning the most selective adaptive IF car receivers, according to real field testing by German long distance FM enthusiasts is archived here. Highly rated FM tuners include Blaupunkt's Sharx Twinceiver, Sharx Digiceiver and Alpine's Max Tune Pro.